Buckley's Pharmacy and Mardo's Gift Shop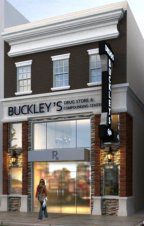 Buckley's Drug Store has been serving the Englewood community and adjacent towns for over eighty years. For over 30 years, owners Gil and Marcia have been leading their friendly staff to also provide specialized personal care in addition to the excellent pharmacy services that the company is widely known for.
Here at Buckley's, we offer a wide range of products and services to our customers. As an independent pharmacy, it has always been our mission to provide quality medications at affordable rates. Fulfilling this goal is our priority day after day, ensuring each customer leaves our store feeling more satisfied and at ease than when they first walked through our doors. Our gift store offers items for all occasions, fostering happiness and acceptance in our community. We are focused on forming close bonds with our customers and being a trusted supplier of your medication, celebration, and health care supply needs.